Mobile Ceramic Pro Coatings
Unique Detailing is home to Vancouver's first Certified Ceramic Pro Flagship Location. We've been installing Ceramic Pro longer than any other shop around. When it comes to professional experience, you can trust us to get the job done right.
Ceramic Pro is a multi-layerable, clear, liquid nano-ceramic coating. When cured, this technology will transform itself on the surface to a permanent, ridged, flexible glass shield. Ceramic Pro can be described as an additional clear coat, with 3 times the hardness and self cleaning properties.
Mobile Ceramic Pro Coatings only include 2-year and 6-month warranty packages. 5-year and lifetime warranty packages are available in our shop. View more details here.

Ceramic Pro is a clear, liquid nanoceramic coating, based on a revolutionary technology developed by NanoShine LTD. When cured, this technology will chemically bond, transforming itself on the surface to become a rigid, super-structure of nanoglass, protecting the substrate it is applied to inde nitely. Ceramic Pro was designed as an industrial, multi-functional, protective coating for all surfaces. The nanoceramic glass coating forms an exceptionally strong and durable shield, resistant to solvents, acids, alkalis, UV rays, harsh weather conditions and corrosion.
WHY CERAMIC PRO ON MY VEHICLE?
The coating will permanently protect the vehicle's exterior and interior from deteriorating. The resale market value of your car will be higher as not only will the coating have tangible benefits for the new owner but the warranty is also transferrable.
Once the coating is applied, you will see a mirror effect, glossiness and color depth incomparable to anything else! With proper maintenance, your car's finish will shine for many years to come.
CERAMIC PRO PRICING AND PACKAGES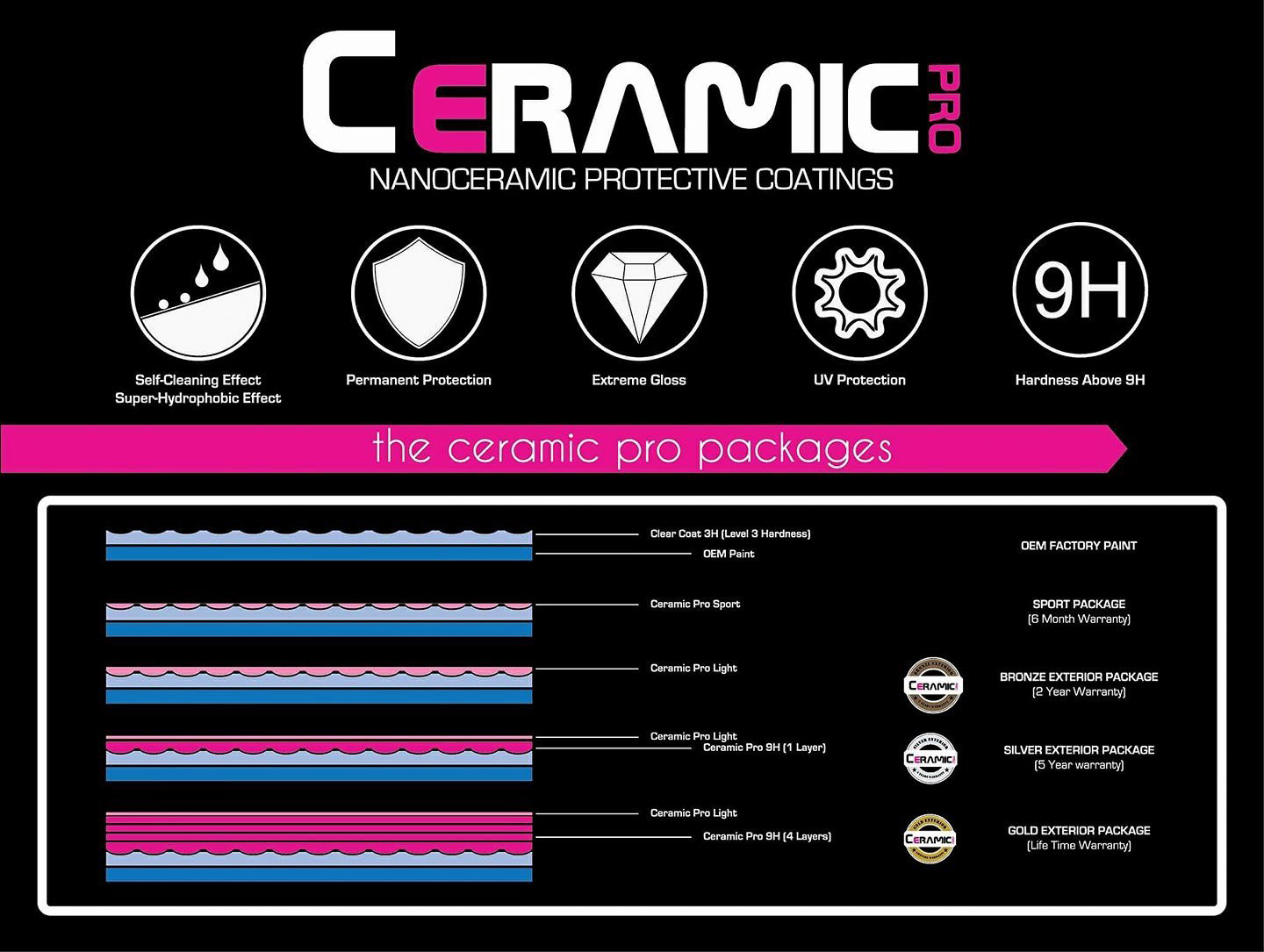 All of our Ceramic Pro packages include:
Ceramic Pro nano primer polish
**For a more accurate quote on a Paint Correction, schedule an appointment to have your paint evaluated.**
Compact: $300-$800
Mid-Size: $400-$1200
Full-Size: $500-$1600
Most vehicles, including new vehicles, will require paint correction that will be charged additionally according to paint condition, size, and the customer's request.
BRONZE PACKAGE (TWO YEAR LIMITED WARRANTY)
Compact: $795
Mid-Size: $895
Full-Size: $950
Over size: $1195
Wash and decontamination
Paint correction**
1 layer of Ceramic Pro Light on exposed paintwork
1 layer of Ceramic Pro Light on plastic, wheels, and calipers
1 layer of Ceramic Pro Rain on front windshield and front side windows
** Paint correction will be charged additionally.
SPORT PACKAGE (SIX MONTH WARRANTY)
Compact: $350
Mid-Size: $395
Full-Size: $449
Over Size: $525
Wash and decontamination
Paint correction**
Ceramic Pro Sport paint, plastic, and wheels
** Paint correction will be charged additionally.
Compact: $250
Mid-Size: $300
Full-Size: $325
Over Size: $350
Exterior Wash, Wheels & Door Jambs
Clay Bar & Iron Off Decontamination
Apply Ceramic Pro Sport
CERAMIC PRO INTERIOR PACKAGE
Ceramic Pro Textile

Compact $150 | Mid size $175 | Full size $200 | Oversize $225

Ceramic Pro Leather & Plastic Interior

Compact $400 | Mid size $500 | Full size $500 | Oversize $600
CERAMIC PRO WHEEL FACE COATING
From $300
Wheel & caliper coating helps reduce brake dust build-up and to help resist the extreme elements that your wheels face on a regular basis. Ceramic Pro wheel & caliper resists the caustic elements in brake dust, high temperatures, environmental conditions, and salt while making wheel cleaning a breeze!
Compact: $100
Mid-Size: $100
Full-Size: $100