Revivify deviates from the "harder is better" philosophy typically ingrained in many popular brands, and opts for thicker, flexible coatings capable of healing from most light scratches. We offer Revivify coating packages for your entire vehicle, from its paint and trims to windows and wheels.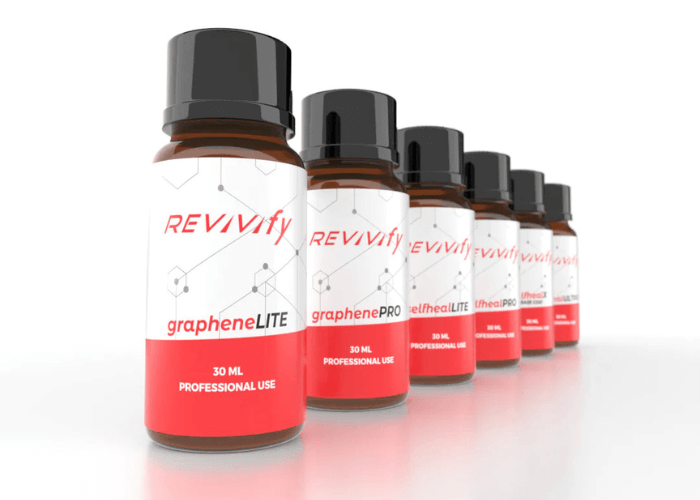 All coating packages are inclusive of an extensive preparatory wash, clay bar treatment, chemical decontamination and a light polish, where necessary.  Paint correction is available for an additional fee.
The Revivify coating of your choice will be applied to the entire vehicle, ensuring coverage and protection for:
exposed paint and exterior plastic trims;
wheel faces; and
all glass panels.
---
PAINT CORRECTION
$100/hour
Most vehicles, even brand-new ones, will require paint correction to remove scratches and other imperfections prior to coating. Usually, more paint correction means better-looking paint, but how much we do really depends on you. We prefer to assess your vehicle in person for a more accurate estimate, but our experience has given us the following average ranges:
Compact: 3-8 hours
Mid-size: 4-12 hours
Full-size: 5-16 hours
Oversize: 8-20 hours
---
REVIVIFY GRAPHENE PRO PACKAGE
Eight-Year Limited Warranty
Compact: $1490
Mid-size: $1690
Full-size: $1890
Oversize: $2190
The Graphene Pro Package is our flagship Revivify solution to avoid hard water spotting while providing top-of-the-line protection against fading and deterioration caused by UV rays.
---
REVIVIFY SELF-HEAL PRO PACKAGE
Five-Year Limited Warranty
Compact: $980
Mid-size: $1140
Full-size: $1240
Oversize: $1440
The Self-Heal Pro Package is popular among utilitarians and enthusiasts, who desire premium protection for their vehicles during their ownership. Hydrophobic properties for ease of maintenance and protection against UV rays and other harmful elements come standard.
---
INTERIOR AND OTHER SURFACES
Revivify Packages may be mixed and matched with Ceramic Pro packages for the interior, wheel barrels and calipers.